Posts for: October, 2017
By T. Jill Parker DDS and Associates
October 23, 2017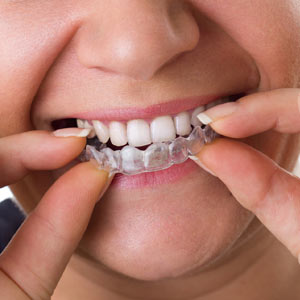 You've invested a lot of time and money in orthodontic treatment to improve your smile. If you're not careful, though, your teeth could actually move back to their old positions. The reason why is related to the same natural tooth-moving mechanism we use to straighten teeth in the first place.
Teeth are held in place by an elastic, fibrous tissue called the periodontal ligament lying between the teeth and the jawbone and attaching to both with tiny collagen fibers. The periodontal ligament allows for incremental tooth movement in response to pressure generated around the teeth, as when we chew (or while wearing braces).
Unfortunately, this process can work in reverse. Out of a kind of "muscle memory," the teeth can revert to the older positions once there's no more pressure from the removed braces. You could eventually be right back where you started.
To avoid this, we have to employ measures to hold or "retain" the teeth in their new positions for some time after the braces come off. That's why we have you wear a dental appliance called a retainer, which maintains tooth position to prevent a relapse. Depending on what's best for your situation, this could be a removable retainer or one that's fixed to the teeth.
Patients typically wear a retainer around the clock in the immediate period after braces, and then eventually taper off to just nighttime wear. Younger patients must wear one for several months until the new teeth positions become more secure and the chances of a rebound diminish. For older patients who've matured past the jaw development stage, though, wearing a retainer may be a permanent necessity to protect their smile.
Retainer wear can be an annoyance, but it's an absolute necessity. Think of it as insurance on your investment in a new, more attractive smile.
If you would like more information on improving your smile through orthodontics, please contact us or schedule an appointment for a consultation. You can also learn more about this topic by reading the Dear Doctor magazine article "The Importance of Orthodontic Retainers."
By T. Jill Parker DDS and Associates
October 15, 2017
The American Dental Hygiene Association has designated October as National Dental Hygiene Month. Good dental hygiene is the best weapon against your mouth's number one enemy: dental plaque.
Plaque, a sticky biofilm that forms on your teeth, is an accumulation of bacteria, other microorganisms, food debris, and other unpleasant components. It can make your teeth feel fuzzy or slimy. And worse, the bacteria in plaque can lead to tooth decay and gum disease.
The best way to keep plaque at bay is by brushing your teeth twice a day and flossing once a day. But even though you can remove much of the plaque in your mouth with a toothbrush and dental floss, there are nooks and crannies that are hard to access with these basic oral hygiene tools.
Staying on top of dental plaque is an ongoing challenge. Immediately after teeth are cleaned, plaque starts to form again. And the longer plaque stays on teeth, the thicker it grows. Minerals in saliva become incorporated into the biofilm. As plaque takes on more minerals, it becomes calcified. This is when it hardens into calculus, or tartar. At this stage, tooth-brushing and flossing cannot disrupt the hardened layer of buildup, sometimes visible as yellow or brown deposits around the gum line.
This is why it's important to schedule regular professional dental cleanings. At the dental office, we have special tools to remove tartar and get at those hard-to-reach places that your toothbrush and floss may have missed. If you have questions about dental hygiene, plaque control or another oral health issue, we are happy to talk with you. We are your partners in fighting plaque for a bright, healthy smile!
Read more about the topic in the Dear Doctor magazine article "Plaque Disclosing Agents."